20 Jan

Aluminum Composite Panel: Learn the Different Applications

Having a beautiful building or home is eye-catching and gives a long-lasting impression on people. The aluminum composite panel is a great material to make your office and home appealing because of its colors, design, and its smooth surface. They are also durable and cost-efficient, that is why you can see this panel almost everywhere in different applications in any home or establishment.

Take note, there's a different application of the ACP in interior and exterior. And without further ado, here are the different applications in offices or homes.
Interior
1. False Ceilings
The flat ceiling is one of timeless style, especially in houses, because of it's simplicity that you can easily put another design on it or remain minimal. False ceiling becomes essential in achieving the flat surface of the ceiling and the ACP is one of the popular go-to materials for it. The ACP sheet can make your ceiling smooth and even, also they are low maintenance because dust can easily be removed from the sheet.
2. Wall Partitions
Wall partitions are very important part of buildings and homes because they are the pillar of the structure and it's where you put your decorative items for your room. Unlike the false ceiling, when it comes to walls a lot of us have a preferred style in our heads. Some of us may want brick style walls, a glass, or just simply a smooth wall. And if you're into smooth walls the aluminum composite panel sheet is for you! The ACP sheets are economical, lightweight, and colorfast. Compared to your regular paint the ACP won't fade and also you have plenty of styles to choose from.
3. Signage
It is a staple to every store owner to have their own signage for their business because having a signage can catch the attention of potential customers. ACP is mostly used for shop signs for both interior and exterior, they are also naturally strong and rigid which makes them one of the top choices.
4. Sound Barrier
Everyone of us wants to feel comfortable in our home and office spaces. We often want to have a quiet and peaceful day. The aluminum composite panel does not only make your building or home look beautiful, but this sheet has sound insulation that helps you with the noise problems. That is why many office buildings prefer this material in their buildings because it gives them style and privacy.
Exterior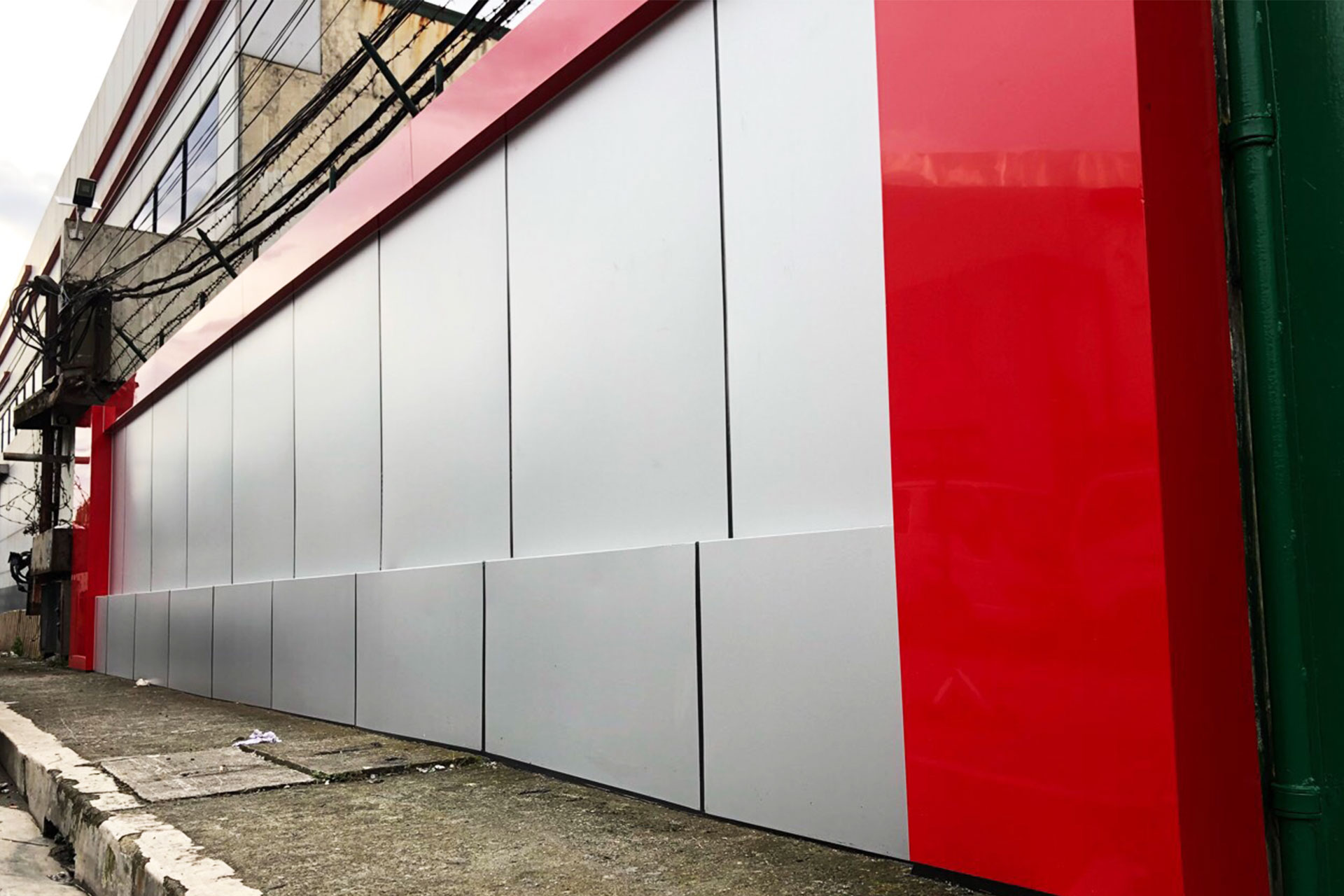 1. Cladding
Cladding is covering the whole building externally than painting it as a whole. The ACP sheets are a popular choice as a cladding material for the building and the benefits are these sheets are easy to install and colorfast. The aluminum composite panel can also cut your cost in regular maintenance because it allows water and dirt to run down on its surface that prevents staining your wall.
2. Curtain Walls
We want the best for our buildings, whether it's for the office or home, and we make sure the structure has a lot of strength. And that's why we make curtain walls for buildings' structure. Compared to other exterior applications, the curtain walls protect us from the harsh environment and other natural phenomena.
The aluminum composite panel is the perfect material for it! As we discussed earlier, the ACP sheets are durable and lightweight, they are also weather-resistant. They can protect you from heavy rainfall and the sun's rays. It is also corrosion-resistant that makes your curtain walls incredibly strong.
3. Parapet Walls and Roof Edges
Parapet wall and roof edges are an important part of the structure of our houses, and even in buildings, the roof edges are the extra spaces of the roof or an overhanging wall at the sides of the building. The parapet wall is an extension of the building or house at the balcony, walkway and roof edge. These make the exterior of the establishment strong fundamentally if you use the right materials like the ACP sheets.
Just like in cladding, the aluminum composite panel can cut your cost from maintenance, in painting your outside wall, and many more. In addition to that, your roof edge and parapet wall are more durable because ACP sheets also support the foundation of the external part of the building.
4. Column covers & Beam Wraps
Column covers and beam wraps are the modern style of an upright pillar in the building. They are known for their metallic appearance and that's what makes them futuristic and they can also be placed for both interior and exterior. Aluminum composite panel is the most commonly used material for the column covers and beam wraps because of its superior impact resistance that can support well the whole structure of the building.
5. Dado
Dado is the lower part of the wall and above the skirting board of the building. The purpose of the structure of the dado is to make your wall beautiful and functional. Dado prevents damages and stains in the whole building.
(In conclusion, we want a great foundation for our structure of the building that doesn't need to cut-out the style of the establishment. The durability, low maintenance, variety of color/design and economical made the Aluminum Composite Panel is one of the most used and trusted materials for both commercial buildings and houses. For that reason, the ACP sheets have different ways in applications, either it's for interior or exterior.)
In need of high-quality material for your building walls? ECOBOND ACP is the best choice for your next project! It is a "state of the art" ACP with a pre-coated aluminum skin and thermo-bonded to a polyethylene core. Choose ECOBOND ACP and inquire from us today, to give your office or home a new look with these sheets.
Don't forget to LIKE and follow us on Facebook to keep you updated with our products and services.