20 May

The 4 Most Commonly Used Piping for Swimming Pool Installation

Posted at 14:00h

in

Blogs

With the various materials used in the construction of swimming pools, it is necessary to make sure that each one of them gets to be installed properly to avoid costly repairs along the way. Doing this will ease any leaks or unforeseen damages both on the exterior and interior parts of the pool. The piping found in the plumbing system of a swimming pool plays an integral role because it is the one responsible for bringing safe and clean water. This is why the type of piping you choose for swimming pool installation has an impact on the overall quality of its construction as well as its longevity.

In this article, we will be diving into the 4 most commonly used piping for pool installation. So sit back and read on!
1. PVC Pipe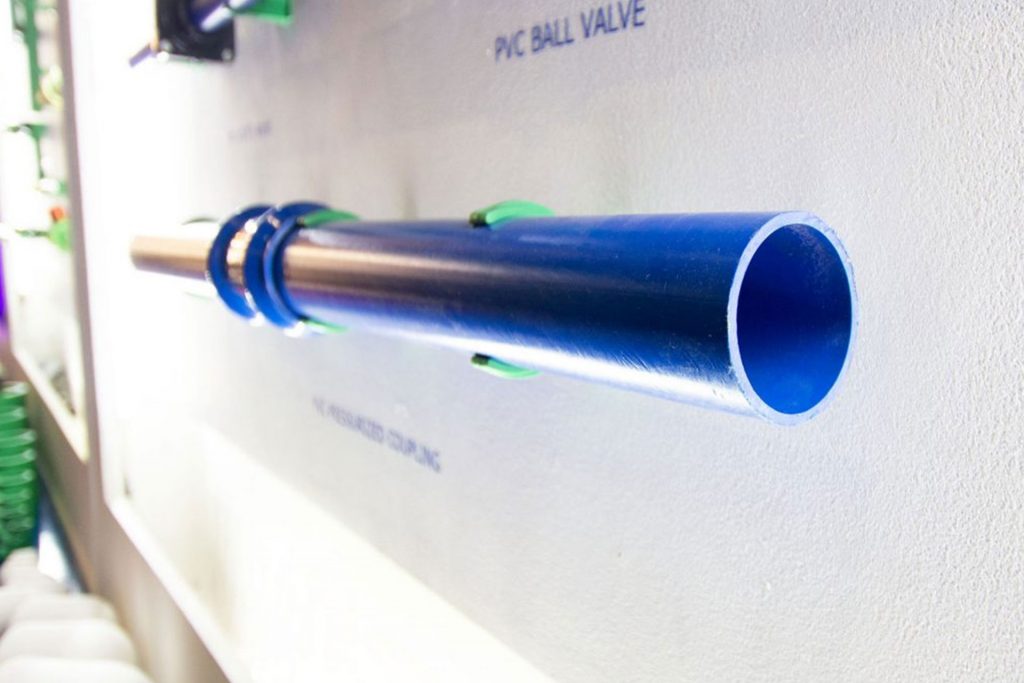 PVC pipes are known for being easy to install, lightweight, and durable. On top of that, they are versatile and can be used in a variety of applications. They are also one of the standard trusted pipes used for swimming pool installation. Although, there are other types of PVC pipe you can consider for quality swimming pool installation.
Thus the word "flexible," this type of PVC pipe can seamlessly be bent and moved because it is made with plasticizers. It is now mostly used in the installation of new swimming pools, and compared to rigid PVC pipe, it is easier to install. Some of its advantages are its capability of withstanding freezing temperatures and ground movements. With its lightweight structure, you can also save time in cutting and measuring this PVC pipe, which can help reduce labor and installation costs.
However, it also has some disadvantages. It is not that resistant to chemicals and is more expensive compared to rigid PVC pipe. Without proper maintenance, it can be susceptible to leaks and cracks in the long run, causing insect blitzes.
The durability of the rigid PVC pipe makes it a top choice for residential swimming pool installations. Rigid PVC doesn't have much disadvantage to it and has a long lifespan. Its thickness, which is referred to as the schedule, has two options: schedule 40 and schedule 80. Schedule 40 is used for lower pressure and drainage water flow applications. It is also the standard thickness of pipes used for swimming pools. Schedule 80 on the other hand, is thicker, more expensive, and can withstand stronger pressure compared to schedule 40.
2. Copper Pipe
Copper pipe was a popular choice for swimming pool piping systems. But given its tendency to corrode over a period of time, people began seeing the benefits of using PVC pipes for pool installation more and more. Unlike PVC pipes, copper pipes are trickier to install and would require existing knowledge prior to the installation process. It is also more expensive and difficult to use. Despite its disadvantages, it still has some advantages. Copper pipes are highly resistant to earthquakes and fires.
3. CPVC Pipe
Also known as chlorinated PVC, this type of pipe is commonly used in plumbing systems in need of piping that can withstand higher water temperatures. Which is why it is ideal for the installation of pool heaters or hot tubs. It is also one of the most expensive pipes, so if you won't be needing pool heaters, this may not be the best option for you.
4. PPR Pipe
Polypropylene Random Copolymer or PPR pipe is used in various applications such as swimming pools, marine facilities, hot and cold water facilities for civil buildings and more. This type of pipe is resistant to corrosion, chemicals, and high temperatures, non-toxic, and easy to install. On top of that, it is lightweight, which can ease or reduce installation costs. The PPR pipe is also known for its durability and flexibility. It can cope with soil movement and external loading without any tendencies of cracking.
For references of the piping, visit our page to see more of our products. Inquire now and we will offer you our best products.
Keep in touch with us by liking and following us on our Facebook page to keep you updated with us.